A few weeks ago, the Carat Project celebrated our mobile energy diagnosis app having been installed on more than 500,000 devices. Of these devices, 59% were running iOS and 41% were running Android. Tens of thousands of these devices actively use Carat every week.
The project continues to generate excitement. For example, it was recently featured in a piece about mobile battery life on ABC affiliate 7News in Denver. (Click on the Video link in the top left of the article to view the piece that aired; the bit about Carat and the AMP Lab starts at 1:26.)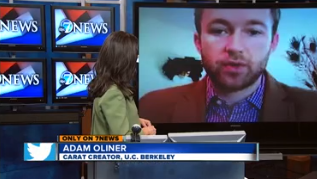 The data has a positive story to tell about how well Carat's predictions match reality and improve users' battery life. After receiving their first report, Carat users see an average improvement in battery life of 10% after 10 days and of more than 30% after 90 days. These numbers include users who ignore Carat's recommendations, so the actual improvements may be even higher. As for the accuracy of the battery life improvements Carat projects (e.g., "Kill app X to get 45m ± 5m, with 95% confidence), 95.4% fall within the specified bounds (i.e., when users kill app X, 95.4% of the time the actual improvement they see is between 40m and 50m).
We are working to extend Carat's diagnosis to provide more information to users, including what device configurations or behaviors might be problematic, and to reduce the latency between installation and receiving personalized reports.