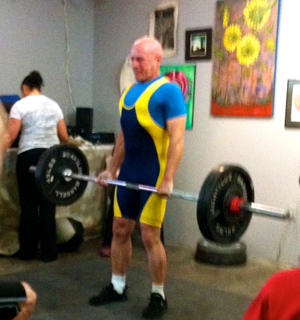 On Saturday April 20 I participated in the American Powerlifting Association California Championships in Sacramento.
It was a "RAW" competition, which means no gadgets to help you lift the weights (no supportive suits).
I thought I could just enter the bench press, but it was a three-event contest so I had to also learn how to do a squat and a dead lift while competing (photos included).
You get 3 chances per lift, and if you fail all 3 you are out of the contest.
My old wrestling buddy Rich Byrne showed up after the first lift failure to give me just-in-time suggestions.
I failed two each round to make it exciting, but got one right each round to make it to the final lift, where I only failed once.
I ending up winning my age group and weight class (see photo), although I surely failed more lifts than anyone else at the event.
The total for all three lifts was 620 pounds, which for my age and which for my age and weight group (inadvertently) set the APA RAW California State Record.
I think the results were one part strength, one part longevity, and one part trying to avoid public humiliation.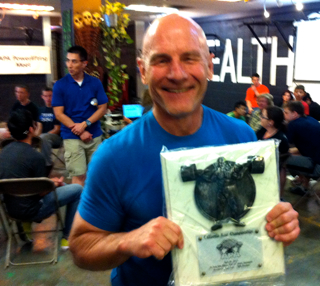 – David Patterson