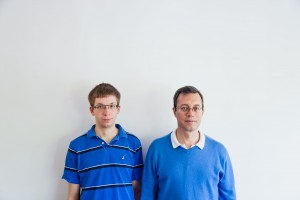 This morning our very own "open source super star" Matei Zaharia, as well as Ion Stoica, the Spark project, the AMPLab, and a number of other AMPLab members were featured in a story on wired.com entitled Spark: Open Source Superstar Rewrites Future of Big Data.
Special thanks to Ram Sriharsha of Yahoo! for his support. Last but not least, a special mention to Ganesh Anantharayanan and Yuchen Zhang for making AMPLab look good in this picture!
Photo: Matei Zaharia (left) and Ion Stoica (right). Taken by Ariel Zambelich/Wired, courtesy of the wired.com article.